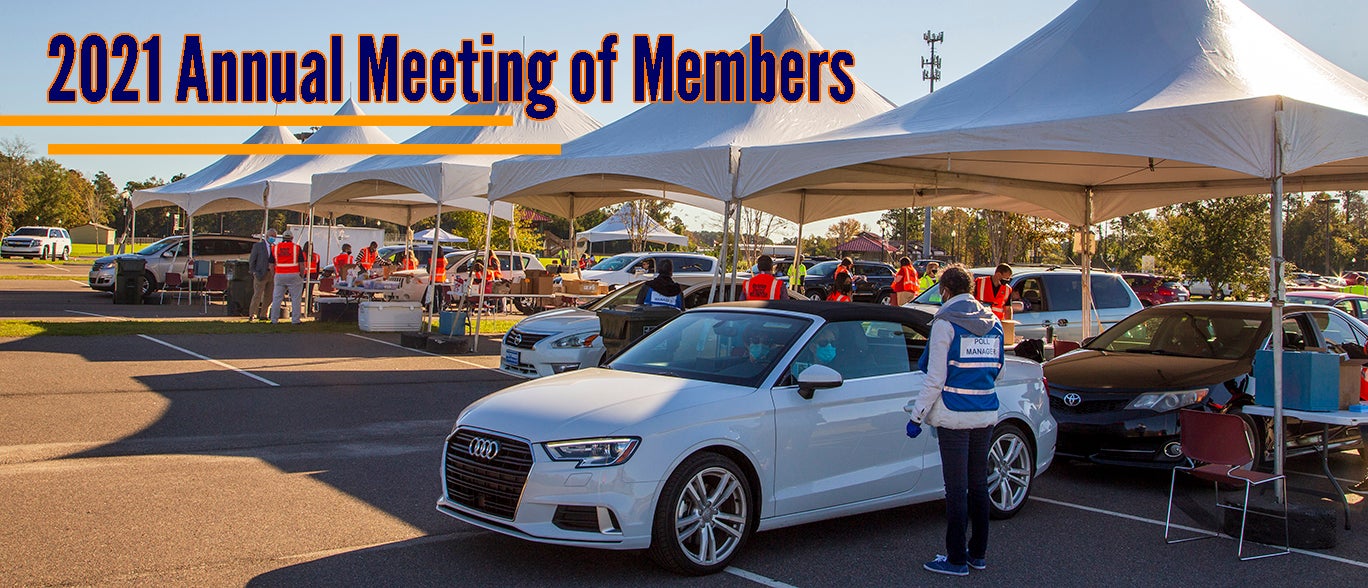 Based on the success of last year's meeting and due to the continuing uncertainty surrounding the COVID-19 pandemic, Berkeley Electric Cooperative's 2021 Annual Meeting of Members will once again be DRIVE-THRU ONLY.
Registration will be designed so that you never need to leave your vehicle and Berkeley Electric employees will be following all COVID-19 safety guidelines. We request that members wear face coverings, if possible. There will be multiple voting lanes and we will assist members as quickly as possible. Please be aware that there are no restrooms or food vendors so please plan accordingly.
The co-op will hold one day of voting in each district. Members may only vote once but can choose to vote at any of the times/locations listed below. Please note the voting times for each location.
All votes will count towards the quorum and members who register to vote will automatically receive a $30 bill credit and be entered for all prize drawings. Members must vote in the trustee election to receive the bill credit and will also be asked to approve the meeting minutes from 2019 and 2020 which are posted for review below.
Members will be able to register and cast their vote at one of four locations this year on the dates listed below. Members receive one vote per membership and can vote at the location/date of their choosing. All votes will count towards the required meeting quorum. Maps and driving instructions are available.
Monday, Nov. 8 / 7 a.m.–1 p.m.
Awendaw district office, 7200 N. Hwy 17, Awendaw, SC 29429
Wednesday, Nov. 10 / 7 a.m.–6 p.m.
Moncks Corner Recreation Complex, 418 E. Main Street, Moncks Corner, SC 29461
Tuesday, Nov. 16 / 7 a.m.–7 p.m.
Exchange Park Fairgrounds, 9802 US-78, Ladson, SC 29456
Thursday, Nov. 18 / 12 p.m.–6 p.m.
Johns Island district office, 1135 Main Road, Johns Island, SC 29455
Business meeting will be broadcast on the cooperative's website & social channels at 6 p.m.
Each year, three of the nine board of trustee seats are up for election on a rotating basis. The results of this year's election will be posted by the end of business on Friday, Nov. 19. This year an additional interim board seat will be up for election due to the passing of the previous trustee.
Due to the COVID-19 pandemic, Berkeley Electric was unable to hold an in-person Annual Meeting last year (2020) and tabled the approval of the 2019 meeting minutes. Although the continuing pandemic has restricted our ability to hold an in-person meeting again this year, the cooperative's bylaws require the approval of the meeting minutes by the membership.
Please review the minutes for both the 2019 and 2020 Annual Meetings. Members will be asked to approve these minutes on the same ballot as the trustee elections. Additional copies of the meeting minutes can be found in the Member Portal on Smarthub.
Each member who registers to vote in person at any of the Annual Meeting locations/dates will qualify for a $30 bill credit (limit one credit per membership).
Members on pre-paid billing will receive the credit by Nov. 19. Members with traditional monthly billing will have the credit applied to the first bill after the last Annual Meeting date (Nov. 18).
Voting members are automatically entered into all door prize drawings - including the Grand Prize. Members do not need to be present to win as they will be contacted directly no later than Friday, Nov. 19. A list of winners will also be posted on our website, Facebook page and other social channels.
Although this is a drive-thru event, members will still be required to cast a vote in order to receive the bill credit. Members will also be asked to approve the minutes from the 2019 and 2020 Annual Meeting which are available for review.

In order to register to vote at the Annual Meeting, members must present their I.D. and a copy of the Annual Meeting notice that was mailed to their service address. In place of the paper copy, members may also download the Annual Meeting notice letter from Smarthub to their mobile device.
In order to download a copy of the letter, first log-in to your Smarthub account and select "More" at the bottom right. Then click on "Documents" and open the "Annual Meeting Notices." Click on your account number and then select the PDF with the bar code. When you drive-up to register be sure to show us your ID and zoom your phone in to the bar code on the letter.
Please remember that all registration and voting is drive-thru only and Berkeley Electric Cooperative will be observing COVID-19 safety protocols. We request that members wear face coverings, if possible.