FRONT OF BILL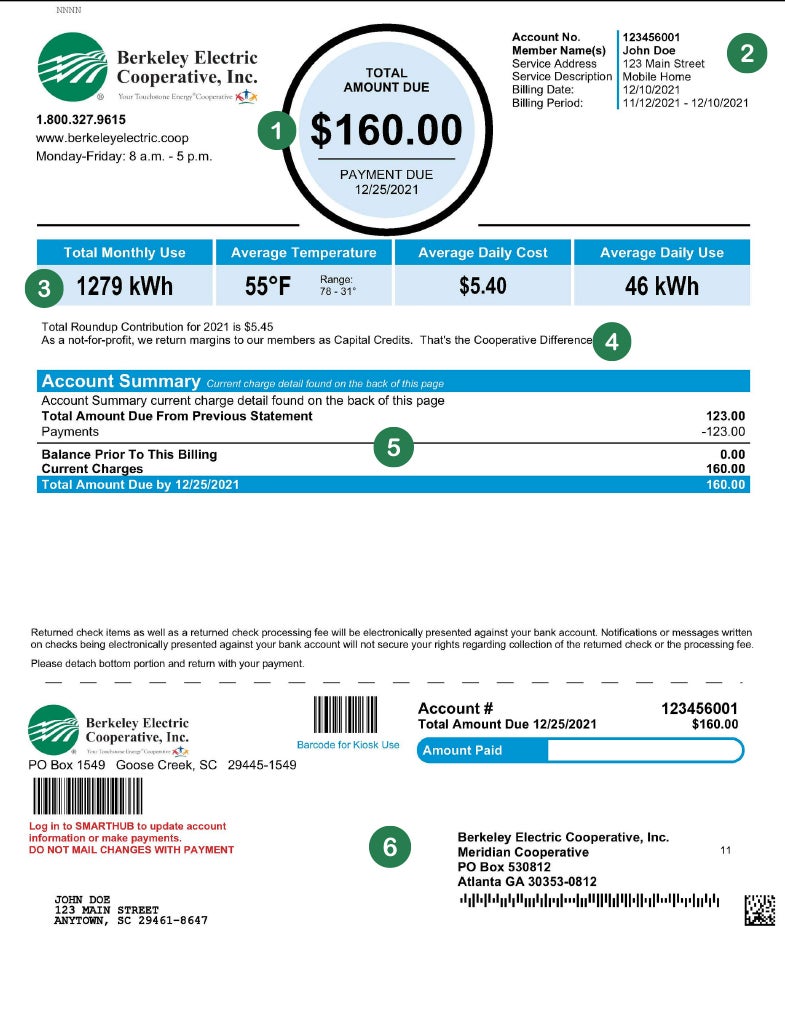 BACK OF BILL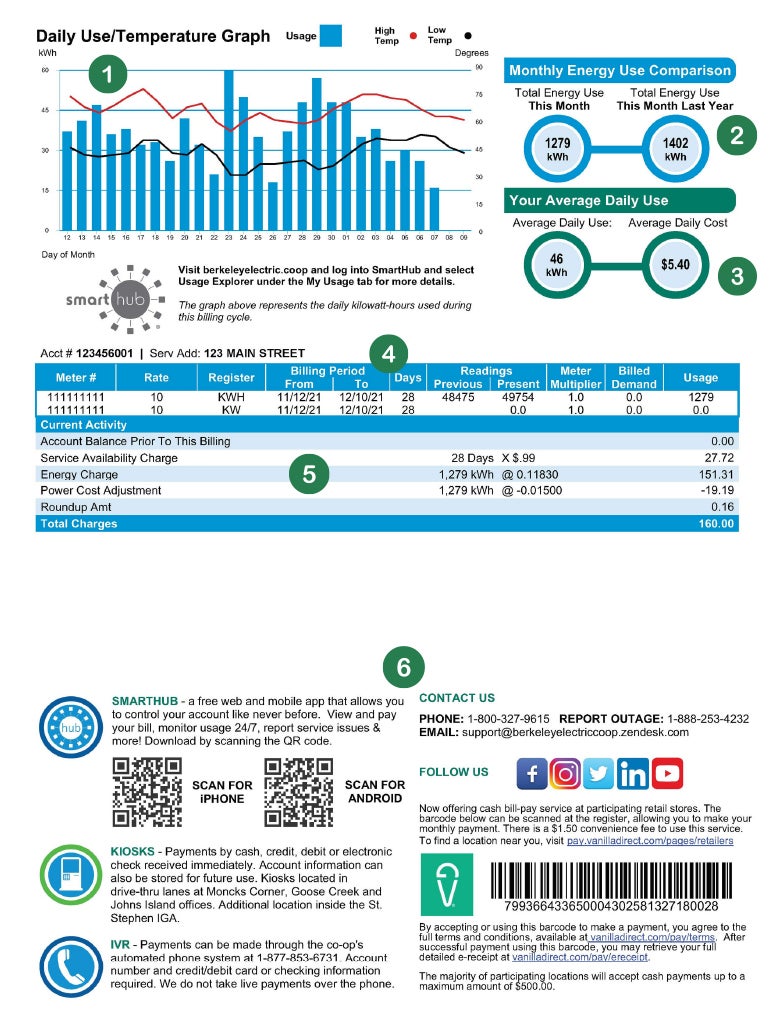 YOUR BILL EXPLAINED
FRONT PAGE
Section 1 - Total Amount Due: Summarizes total amount or budget amount due. AutoPay will be indicated if the member is enrolled.
Section 2 - Account Information: Your account number, name, service address, service description and billing period.
Section 3 - Monthly Summary: Total usage, temperature information and average cost information for the current billing period.
Section 4 - Messages: Messages directly related to your account or service. Also features information on co-op programs/events.
Section 5 - Account Summary: Information about past payments, current and total charges. Includes any activity since your last statement.
Section 6 - Payment Stub: If mailing your payment, detach this section and mail it with your check. Payment stub can also be used to pay at automated kiosks.
BACK PAGE
Section 1 - Usage/Temperature Graph: Graph displays daily energy use for the billing period compared to daily high/low temperatures. The greater the difference between the outside temperature and inside thermostat setting, the greater amount of energy used by the HVAC system -- even if you don't adjust the thermostat.
Section 2 - Monthly Comparison: Displays the amount of energy used during the current billing period compared to the same billing period last year.
Section 3 - Daily Average: Graph showing daily use and average daily cost during the current billing period. Average use is calculated by taking monthly usage and dividing by the number of days in the billing period. Average cost is calculated by taking the current bill amount and dividing by the number of days in the billing period.
Section 4 - Meter information: This area displays the meter number, rate, reading dates, number of days, readings and usage for the current billing period.
Section 5 - Current Activity: Displays breakdown of all charges for the current billing period which will include the energy charge, Service Availability charge and power cost adjustment.
Section 6 - Payment Options: The section shows ways to contact the co-op and the various payment methods offered.
Billing Summary Detail
The following line items may appear on a typical residential monthly electric bill. Your Billing Summary may include, but may not be limited to, the items listed below:
Please note - for members enrolled in programs like Budget Billing or Net Metering, or on rates like Time-of-Day or Commercial/Industrial, your bill will look different than this typical residential bill. If you have additional questions, contact a Berkeley Electric Member Services Representative at 1-800-327-9615.
Berkeley Electric Cooperative charges a daily $0.99 Service Availability Fee in order to receive residential service and $1.18 daily for commercial accounts. This fee was previously bundled in with the Energy Charge on members' bills but was broken out as a line item charge. In conjunction with this change, Berkeley Electric Cooperative also lowered its base rate for all residential members to ensure that the change was revenue neutral overall for the cooperative. Individual members could still see a change in their bill based on their amount and pattern of electricity use.
The Service Availability Charge helps cover all of the costs associated with building and maintaining an electrical system capable of delivering reliable power 24/7. This includes items like poles, electrical wire, transformers, substations, meter testing, buildings and maintenance, insurance and much more.
The total energy used over that billing period measured in kilowatt-hours (kWh) multiplied by the per kWh rate. Some rates, like Time-of-Day, include both on-peak and off-peak energy charges.
The Power Cost Adjustment reflects the increases or decreases in the cooperative's cost of wholesale power, which Berkeley purchases in bulk on behalf of all members. Berkeley Electric uses the PCA to adjust your bill to reflect changes in the price the cooperative has to pay for the wholesale power that it provides to you. By using the PCA, the cooperative is able to keep its base rates stable.
Currently, the PCA is a credit on members' bills, and it has not changed since April 2017. The PCA can be an extra charge or a credit depending on the cost of wholesale power.
Depending on where you live, you may be charged a city fee based on a percentage of your monthly electric usage. Berkeley Electric does not make a profit on the collection of these fees. This a pass-through cost, from the members within a city's jurisdiction to that city, as a requirement of our franchise agreement with that city.
Ancillary charges represent fees for additional programs in which a member is participating, such as Operation Round-Up and the Green Power program.